The banks in Turkmenistan have sharply decreased the amounts of money that can be cashed both inside the country and beyond its borders, Azatlyk (the Turkmen language service of RFE/RL) reports on February 7.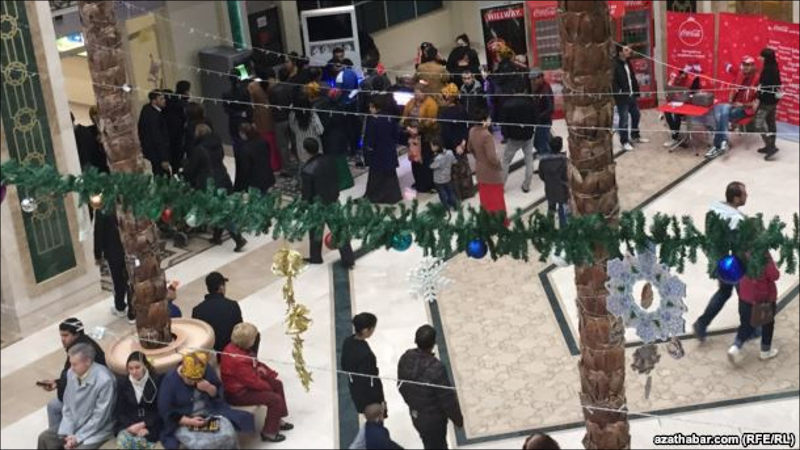 Queues for ATMs in Ashgabat. Photo by RFE/RL

In accordance with the new rules in force as of February 6, the amount of monies to be cashed while the claimant is abroad must not exceed USD250 via Business, Electron/Maestro and Classic/Standard cards, which is equal to 875 manats at the official exchange rate of the Central Bank of Turkmenistan. Debit cards in the Gold category are limited to USD300 (1,050 manats).
"Until that [rule was introduced], one was able to withdraw up to USD10,000 a day from personal accounts. Now my entire business under question," a Turkmen businessman, whose name is withheld for security purposes, told Azatlyk.
He added that people are only learning about the new rule at the time of attempting to withdraw cash: no official warnings or announcements and the website of the State Bank for Foreign Economic Affairs offers no information in this regard.
Earlier such limitations were enforced throughout the country except in the capital. For instance, the limit was 100 manats a day in Dashoguz and 300 manats in Balkan Region. But now even residents of Ashgabat are facing said limitations.
"Our January salary was deposited yesterday. But when we came to an ATM, we learnt no more than 1000 manats can be withdrawn," a teacher in Ashgabat told Azatlyk.
Background: Salaries of all state employees, pensioners' and disabled individuals' pensions, students' scholarships, social welfare payments, as well as farmers' incomes in certain regions, are all deposited onto plastic cards. That said, the population faces the shortage of ATMs and systematic lack of funds in those machines. According to an interlocutor of Azatlyk, "one has to go all around the city in search for a functioning ATM, or one with money in it, to be able to withdraw those earned pennies."
Possibilities to pay using bank-issued cards for goods and services are severely limited in Turkmenistan; everyone asks for cash for payment. But because salaries and pensions are deposited into plastic cards, Turkmen citizens must first withdraw those funds before being able to buy anything. This situation results in long queues by ATMs.
Meanwhile, the Turkmen banks have increased the commission assessed for withdrawing funds Visa and Mastercard cards from 1.75 to 3%.