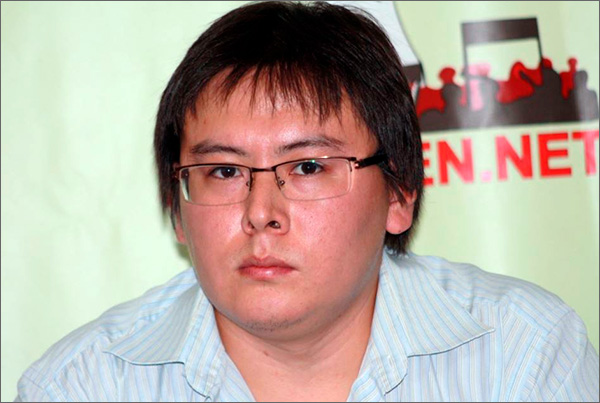 Janbolat Mamay. Photo by RFE/RL

Janbolat Mamay, an opposition journalist and chief editor of Tribuna. Sayasi Kalam newspaper, has been arrested for two months in accordance with a court ruling adopted close to midnight after a four-hour session in Almaty on February 11.

An investigation by the National Bureau for Combatting Corruption charged him with legalisation of monies and other property criminally obtained as part of an organised group. If Mr Mamay is eventually found guilty, he may be fined with a fine between 2,269,000 tenges (about USD7,000) and 4,538,000 tenges (about USD14,000), or imprisonment for a term between three to seven years and property confiscation.

Guljan Yergaliyeva, a well-known journalist in Kazakhstan who waited for the announcement of verdict, wrote on her Facebook page that the anti-corruption agency suspects the detained chief editor of illegally obtaining money from Mukhtar Ablyazov, the former head of the BTA-Bank.

"The point here is that Jarimbetov, the deputy chairman of BTA-Bank in Ablyazov times, has been cooperating with the investigators after extradition and arrest. He said a relative was a middleman between Ablyazov and several individuals who distributed a total of 110,000 US dollars, including Janbolat Mamayev in 2013 and 2014. No details are available as to how much exactly Mamay received for allegedly 'laundering.' That is pretty much all," Ms Yergaliyeva shared on her Facebook page.

She has also said Judge Anina Baydaletov refused to consider statements by well-known Kazakh journalists, human rights activists and public figures who expressed readiness to be Mr Mamay's guarantors. They offered to the court to release Mr Mamay from detention during the investigation and replace it with home arrest or bail.

Information on alleged monies Mr Mamay received money from Mr Ablyazov in 2013-2014 surprised social network users. Many bring up the fact that the former head of BTA-Bank, who is suspected of embezzling USD6m, has been in a French prison between July 2013 and December 2016. Therefore, he could not have controlled any money or have any contacts with the Tribuna newspaper's chief editor.

Amirjan Kosanov, a seasoned opposition figure, also doubts links between Messrs Ablyazov and Kosanov.

"You know, it seems to me that the current need to understand one simple thing: not everything critical [of them] is financed by Ablyazov or someone else. Don't turn him or other affluent critics into ideological monsters as if they finance the opposition, etc.," he wrote on his Facebook page.

Mr Mamay asked his lawyer to convey his public statement on February 11, in which he addresses the Kazakh opposition and categorically refutes the allegation and emphasises the political motivation behind the persecution he was suffering for his journalistic activities.