The Ministry of Foreign Affairs of Uzbekistan is considering a question about accreditation of BBC. Minister of Foreign Affairs Abdulaziz Kamilov reported about it during the International Press Club session discussing actual issues of modern foreign policy.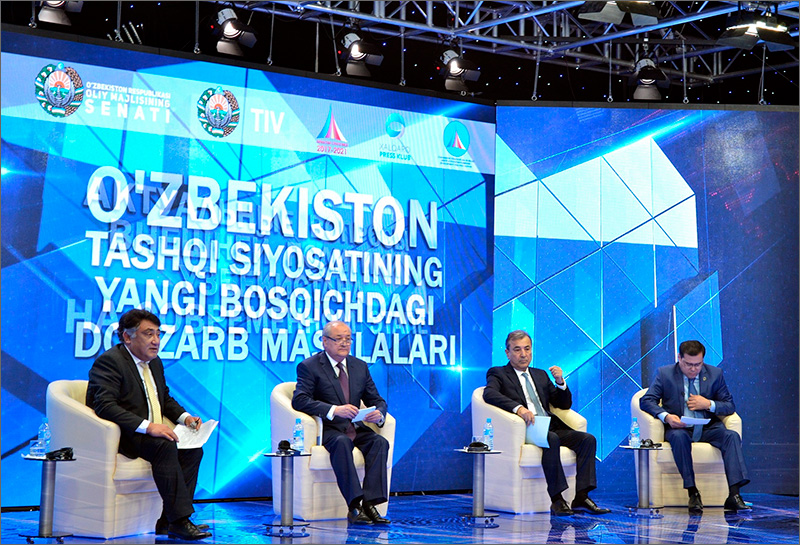 Abdulaziz Kamilov – second from the left

Kun.Uz cites Kamilov: "BBC request has been accepted and its accreditation is being processed".
Foreign minister stated that Uzbekistan is interested in increasing a number of foreign journalists presence in the country and is working on accreditation of leading global media now. At the same time Mr Kamilov did not mention whether it is possible in the future for other international mass media to return to the country after they had left it. At least editions mentioning this session of the International Press Club said nothing about it.
According to Fergana News a Central Asian BBC service has applied for accreditation in Uzbekistan as far back as in December 2016.
Earlier BBC closed its bureau in Uzbekistan and withdrew its seven journalists in October 2005. Like many other foreign media BBC journalists faced harassment and intimidation from country's authorities. Attitude of the official Tashkent towards foreign media publications has always been watchful and worsened after tragic events (mass shooting of peaceful citizens during suppression of mutiny) in Andijan in May 2005. Under the pressure of the Uzbekistan government, besides BBC, Liberty Radio, IWPR, Associated Press, Voice of America, France Press and other representatives left the country.
Fergana News Agency had its own correspondent in Uzbekistan; however the Ministry of Foreign Affairs denied its accreditation extension since 2002.
According to the Ministry 24 foreign media correspondents and six correspondent offices were accredited in Uzbekistan at present. Following agencies have a right to operate officially in Uzbekistan:
'Arezu' Radio TV of Afghanistan
'Anadolu' agency and 'TRT' TV and Radio company of Turkey
'Kazinform' agency of Kazakhstan
'AzerTAdj' and 'Trend' agencies of Azerbaijan
'The Daily Ittehad' of Pakistan
Reuters International News Agency
BBC Monitoring of the UK
'Fars News' of Iran
'VGTRK', Interfax, Russia Today and TASS agencies of Russia
People's Daily and Economic Daily, International Radio of China and Xinhua News Agencies of China

At the same time Uzbekistan is conducting negotiations with BBC about forming a positive image of this country abroad. As Podrobno.Uz reports a Head of State Tourism Development Committee of Uzbekistan Anvar Sharipov and a Head of Regional Representative Offices of BBC Advertising Sergey Stanovkin discussed specific aims and tasks to widen cooperation with BBC agency taking into consideration tourism development priorities during the negotiations. Mr Stanovkin expressed his interest in time and cooperation framework, and he was proposed to plan further actions jointly with large TV channels of Uzbekistan.