The Moscow Basmanny Court arrested Abror Azimov, suspected of organising a terrorist act in St. Petersburg metro, TVRain reports. He will remain under arrest for one month and 16 days until 3 June. Mr Azimov himself stated that in court that he: 'did not realize that he was involved in the preparation of the explosion', and only 'carried out the team.' However, whose commands were carried out by the suspect, and what exactly he did, neither the investigator, nor Mr Azimov himself told. Mr Azimov did not object the arrest, but argued that his involvement in the crime had not yet been proven, and he only partially admits the blame.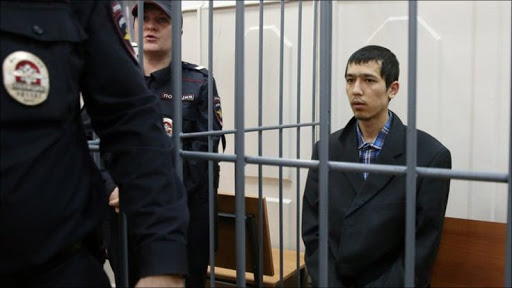 Аброр Азимов в зале суда. Фото © ТАСС

Half an hour earlier, his lawyer Armen Zadoyan told reporters that Mr Azimov had given detailed testimony to the investigators and admitted guilt. Mr Azimov is suspected of committing crimes under clauses 205 (Terroristic Act) and 222.1 (Illegal Storage of Explosives or Explosive Devices) of the Russian Criminal Code.
According to the materials of the case, announced at the time of the arrest, Mr Azimov was born in the Jalal-Abad province of Kyrgyzstan. In Russia, he was registered in Vladimir oblast, but lived in Odintsovo district of the Moscow oblast. Officially the suspect was unemployed, married and raising an underage child. He became the ninth defendant of the criminal case of the terrorist attack in St. Petersburg. Earlier eight suspects were arrested - six people in St. Petersburg and two in Moscow.
During apprehension, Mr Azimov possessed a pistol, cell phones and several SIM cards.