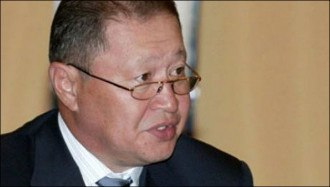 Nartay Dutbayev

The Akmola garrison military court sentenced the former chair of the National Security Committee (KNB) of Kazakhstan, Nartay Dutbayev, seven-and-a-half years in prison with a life-long deprivation of the right to hold posts in the civil service finding him guilty of divulging state secrets and exceeding official authority. Also depriving Dutbayev of the military "lieutenant general" rank and the state award will follow, Zakon.kz reports referring to the press service of the Military Court.

Together with Dutbayev, three other former officials will serve convictions. The court found Nurlan Hasen and R. Muratov guilty of committing similar crimes assigning each of them to serve five years in prison with a life-long deprivation of the right to hold positions in the civil service. The judiciary also found Yerlan Nurtayev guilty of complicity in divulging state secrets sentencing him to three-and-a-half of imprisonment.

The verdict of the military court of the Akmola garrison finalised the trial behind closed doors on 24 August, but it became public only now.

KNB detained Dutbayev and other officials on 26 December 2016 suspecting them of divulging state secrets, at the same time carrying searches in their residences to reveal material evidence.

Since the Soviet Union Nartay Dutbayev started his career as a junior officer of the KGB of the USSR in the Stavropol Krai. During the independence of Kazakhstan, he held a number of high posts in the national security structures. From 2001 to 2006, he headed KNB. He resigned in February 2006 in connection with the assassination of the opposition politician Altynbek Sarsenbayev: the KNB special "Arystan" unit soldiers carried out the murder of the former minister of information and his assistant.

After it Nartay Dutbayev headed the KNB academy, then the nuclear industry enterprises, was an adviser to the president of Kazakhstan. Since April 2013 he was a member of the Board of Directors and an independent director of the National Kazakhstan Engineering Company.

A Central Asia expert, Arkady Dubnov, believes that the criminal prosecution of Dutbayev is related to the case of Mukhtar Ablyazov, whose extradition to Kazakhstan he could not achieve. "For Nazarbayev, this is a serious internal political defeat. The case against Ablyazov failed at the international level, and someone must be accountable," Dubnov told Fergana.

Mukhtar Ablyazov himself earlier expressed the opinion that Dutbayev and other officials witnessed crimes, including political murders committed on personal orders of President Nursultan Nazarbayev. "Now Nazarbayev gets rid of witnesses of his crimes," Ablyazov said.