Members of the non-systemic Tajik opposition held a protest today in Warsaw, where the OSCE Office for Democratic Institutions and Human Rights (ODIHR) holds its meeting. Activists with portraits of convicted members of the Islamic Revival Party (PIVT) banned in Tajikistan demanded to release all political prisoners in the republic and stop harassing relatives of political opponents of the authorities. Speakers also ask the countries of the West to impose sanctions, including a ban on issuing visas and freezing bank accounts of Tajik officials who violate human rights in the republic.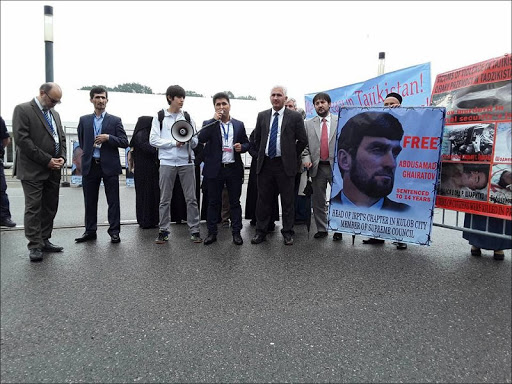 Protest action of representatives of the Tajik opposition in Warsaw

Activists of the "Group of 24", as well as members of PIVT are among the protesters, the TajInfo.org website reports. Representatives of the Tajik opposition movements will deliver reports in plenary sessions. As expected, the PIVT leader Muhiddin Kabiri will also speak, possibly online via Skype, Ozodi (Tajik service of Radio Liberty) reports.
On the afternoon of Monday, the "Tajikistan in the spotlight: The attack on freedom of speech, legal activity and revenge on dissidents" meeting will discuss its work to the situation with human rights in Tajikistan.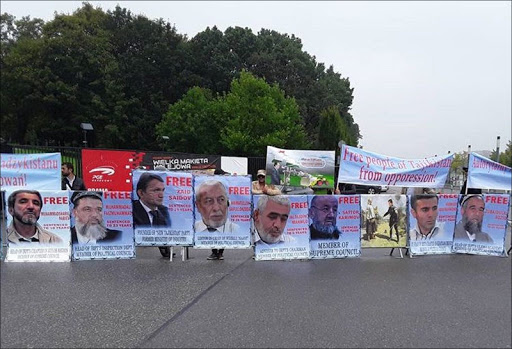 Protest of the Tajik opposition in Warsaw

Polish capital hosts the OSCE Annual Meeting on the Situation of Human Rights in 57 Countries of the World from 11 to 22 September. There were no reports in the Tajik media about the Tajikistan delegation will participate in the OSCE event, and according to some sources, their seats in the meeting hall are empty. However, there is no precise information on the presence or absence of representatives of the official Tajik delegation at the OSCE meeting. Although, as Ozodi Radio reports, the children's ombudsman Rajabmo Habibullozoda planned to lead the government delegation of Tajikistan.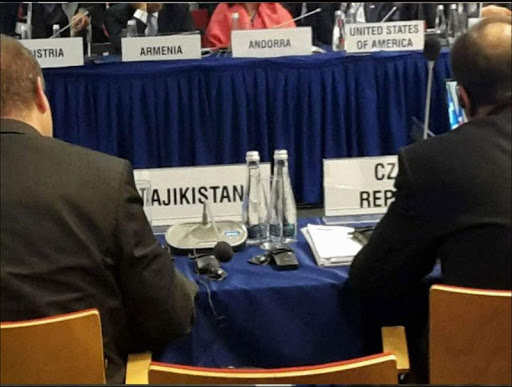 The seat of the representative of the delegation of Tajikistan at the OSCE Meeting is empty

Earlier, the Khovar Tajik National News Agency reported that the OSCE mission in Tajikistan could close if PIVT representatives participate in the September meeting in Warsaw.
In 2016, the participation of the opposition, including members of PIVT and the "Group-24" in the meeting, caused discontent of the Tajik authorities. Then the official delegation of Tajikistan demonstratively left the meeting in protest. In response to the presence of opposition in Tajikistan, the activists of the pro-government youth movement "Avangard" held student protest actions, and the Tajik delegation issued a relevant statement and left the OSCE events ahead of schedule in Warsaw.
In May 2017, a delegation from Tajikistan refused to travel to Vienna for an OSCE conference on the prevention of extremism and radicalism. And since July 2017, at the insistence of the Tajik authorities, the OSCE downgraded its mission in Tajikistan to the OSCE Office in Dushanbe closing its field offices in Garm, Khujand, Kurgan-Tube, Kulyab and Shaartuz.