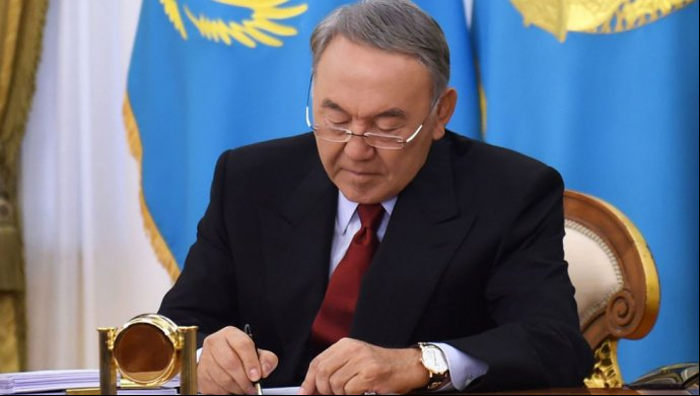 Nursultan Nazarbayev

The President of Kazakhstan, Nursultan Nazarbayev, has unveiled a jubilee medal to mark the 20th anniversary of the Foreign Intelligence Service of the Republic.

The relevant decree is published on the website of the information and legal system of normative legal acts called "Adilet."

Officers of "Syrbar," or the Foreign Intelligence Service, who are "positively characterised and exemplary in performing their official duties, having at least 20 years of experience in service, pensioners of foreign intelligence and other persons, who have made a significant contribution to the activities in the sphere of foreign intelligence of the Republic of Kazakhstan, will be able to receive the anniversary medal."

The medal will be presented in person, in a solemn atmosphere, on behalf of the President of the Republic. The honoured need to wear it on the left side of their chest. In the presence of other awards, it is located after the older awards.

The jubilee medal is a disk, with a diameter of 37 millimetres and is made of brass. On the front side of the medal (obverse) is the emblem of the Foreign Intelligence Service—the globe, in the centre of which is a golden eagle with straightened wings. His head is turned to the heraldic right side. In the right paw of the golden eagle, there is a spear with a tumar (mascot, amulet - note by Fergana News) of horsehair yellow, and in the left—a round stylised national blue shield, the central part of which is cut with two bands of national ornament. A mist of horsehair yellow is attached to the centre of the shield. On the reverse side, the "1997-2017" figures are embossed in the centre.

[Jubilee medal for the 20th anniversary of the Foreign Intelligence Service of Kazakhstan]

Syrbar directly reports to the President of Kazakhstan. It was established in 2009 after the dissolution of the "Barlau" service of the National Security Committee. The Foreign Intelligence Service of Kazakhstan is the most secret structure in the security system of this country.