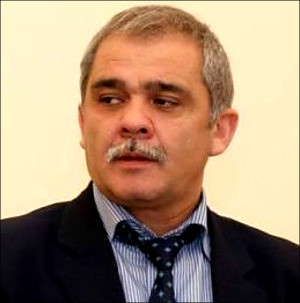 Karomat Sharipov

Lyubertsy City Court of Moscow ruled to deport the head of the CIS [Commonwealth of Independent States - a number of post-Soviet republics' organisation - note by Fergana News] Migrants' Federation Karomat Sharipov to Tajikistan, the "National News Service" agency reports on 30 November.

During the trial, the defence side tried to challenge the decision of the Smolensk Department of the Federal Security Service (FSB) of Russia that Sharipov illegally obtained a Russian passport.

However, all defence applications had been rejected. After deciding to deport and fine Sharipov five thousand roubles, he was detained in the courtroom.

Gulya Kadyrova, the volunteer of the Tajik Labour Migrants movement, who was present at the meeting, stresses that after the detention Sharipov was in the office for 20 minutes, where the lawyer was not admitted. It is still unknown what was discussed at the time in the room.

The Smolensk Department of the FSB withdrew Sharipov's passport on 5 October. The FSB concluded that he had received the document illegally; as a result, it was decided to discard all previously issued passports.

Karomat Sharipov claims that he became a citizen of Russia right after the collapse of the Soviet Union, served in the Moscow Military District, and has never been a citizen of Tajikistan.

In 2008, Sharipov created the social movement called "Tajik Labour Migrants" with 46 regional branches. During the activity of the movement, Sharipov and his organisation acquired an ambiguous and scandalous reputation. In 2016, the Russian Supreme Court granted the Justice Ministry's claim to liquidate this movement. It was announced that it had not proved its all-Russian status and incorrectly described the structure of its units.

The filing of documents for the registration of a new public movement "Federation of CIS Migrants" was announced in September 2017. The participants of the first meeting of the coordination council of the organisation decided that it would work even if the authorities do not register them. They pointed that Russian legislation allows citizens to "create public associations on a voluntary basis to protect common interests and achieve common goals."