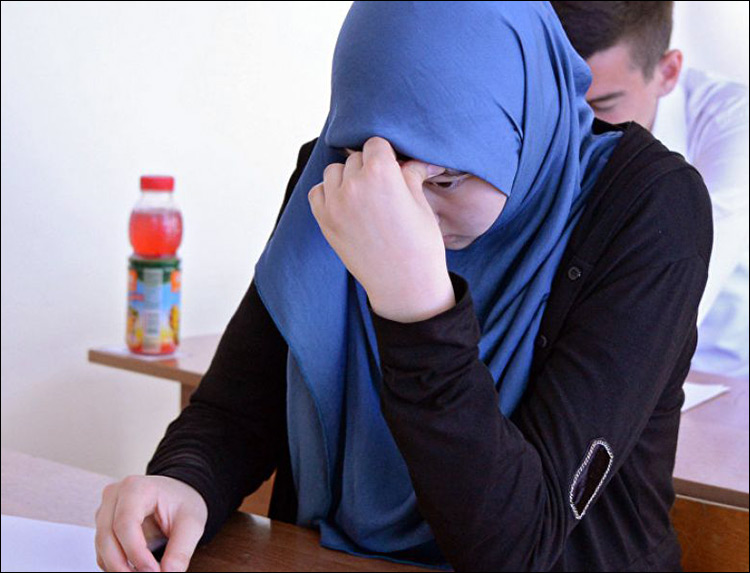 Photo by www.itau.kz

The directors of seven schools in Kazakhstan's Aktobe Provincen have won a court case that centered around fining those parents who do not comply with dress norms for their children, Lyazzat Urazbayeva, the head of the regional department of education, told Kazinform.

Now only those schoolgirls willbe allowed to attend classes whose clothing does not violate an order of the Ministry of Education (as of January 14, 2016). Wearing a headscarf for the first time would lead to a fine of 12,000 tenges ($ 37), and if the violation were to be repeated within 30 days, then 24,000 tenges ($ 74) would be imposed on an offender.

After the court decision, parents of 15 children withdrew them from Aktobe schools and several others decided that their children would attend remotely organized education offered by schools in Moscow. However, according to Urazbayeva, it is impossible to obtain a secondary education in Kazakhstan this way.

Earlier, the current academic year has started with a scandal. 37 Muslim parents sued the Ministry of Education because their daughters were allegedly denied the right to education. Headscarves the girls covered their heads with was the formal reason for the conflict at the time.

Then the Clerical Board of Muslims of Kazakhstan called on parents and the Muslim community to understand the requirements for dressing rules in schools. Until the end of the calendar year, the issue was not resolved.

In early January, four women in Aktobe, trying to protect the right of their children to go to school in religious clothes, were praying at the fence of the school, Channel 31 reported. The police observed the prayer without interfering. However, a retired imam, Bolatbek Nurmanov, called the prayer at the school fence a "riot".

According to the Department of Religious Affairs of the Aktobe Province, about 180 schoolgirls wearing hijab skipped classes in the region as of January 31.

According to Article 3 of the Education Law of Kazakhstan, the education system is secular and direct displays of a particular religion are unacceptable.

A ministerial order issued on January 14, 2016, establishes a dress code at schools that can include a jacket, a vest, trousers, a shirt, a skirt, trousers, a blouse, in winter - a knitted vest, a sundress, a turtleneck. Pants for boys and girls should cover the ankles. Clothing or headscarves that openly display a religious affiliation is prohibited.