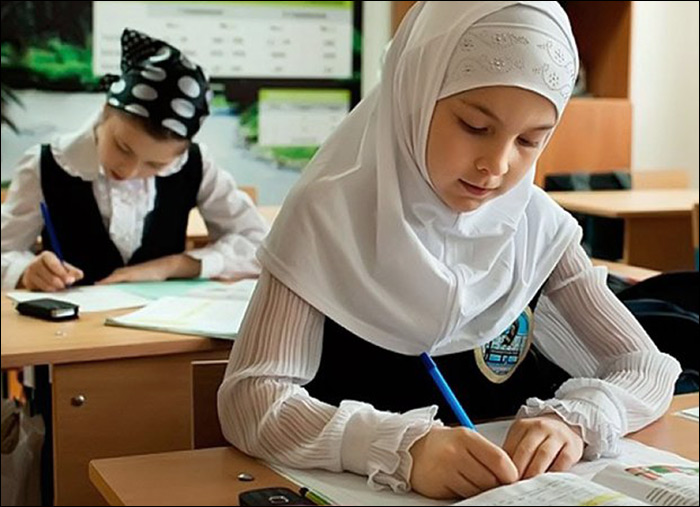 Photo by Aktobe Times

Eight schools of the western Kazakh city of Aktobe have won court cases in which parents had demanded their daughters to be allowed attending wearing headscarves, Astana TV reports. The court upheld the decisions of school directors who forbade students to wear headscarves within the confines of the schools.

"In accordance with Article 49 of the Law on Education, parents are obliged to fulfil the compulsory dressing requirements in schools established by the authorized body in the field of education," acting Press Secretary of the Aktobe Provincial Court, Gulzhahan Bisenova, told the channel.

Earlier in February, the court dismissed similar claims against the directors of seven other schools in Aktobe. According to Azattyq Radio, the last of the currently known lawsuits related to a "headscarf dispute" is scheduled for February 15. The claimant is Kairat Zharmagambet, a local resident demanding that a decision by the director of school No.10, Gulyaim Imanova, be overturned. The principal did not allow two of Zharmagambet's to take classes wearing headscarves.

According to the regional department for religious affairs, at least 173 schoolchildren have not been admitted to Aktobe Province schools due to similar problems.

Disputes about whether it is possible for girls from religious families to wear headscarves in Kazakhstan's schools have continued since the beginning of the current academic year. Then, 37 parents – practicing Muslims - sued the Ministry of Education claiming that their daughters had been denied the right to education.

After the New Year holidays, new reports emerged that in several towns western Kazakhstan, in particular in Aktobe, girls wearing headscarves were not allowed to attend classes. Officials pointed to an order of the Ministry of Education about uniform requirements for the school clothes.

The ministerial order, issued on January 14, 2016, establishes the following clothing requirements in schools. It can include a jacket, a vest, trousers, a shirt, a skirt, trousers, a blouse, in winter - a knitted vest, a sundress or a turtleneck. Pants for boys and girls should cover the ankles. Wearing religious clothing that demonstrate belonging to any denomination or headdresses is prohibited.

The Clerical Board of Muslims of Kazakhstan called on parents and the Muslim community to understand these requirements.