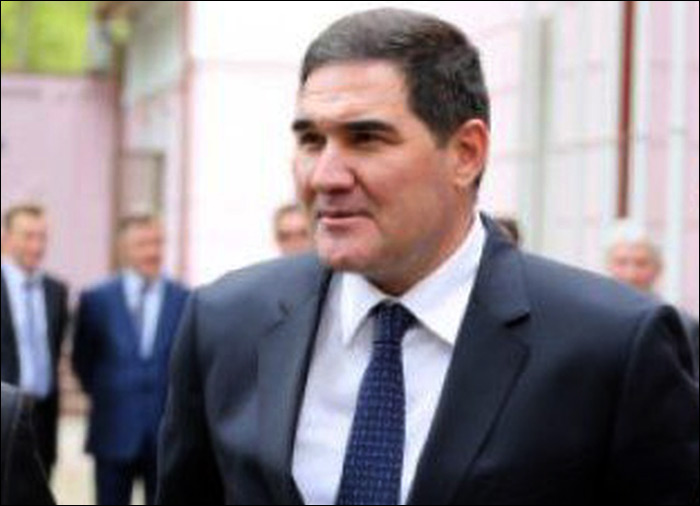 Shukhrat Gulyamov. Photo by CA-News

General Shukhrat Gulyamov, the former first deputy head of the National Security Service (SNB), has been sentenced to life in prison, Uzbekistan's President Shavkat Mirziyoyev announced in a speech in Surkhandarya Province on January 19.

"There was another scoundrel in SNB, Gulyamov, who turned out to be a traitor to our country and was sentenced to a life sentence. But there are still footprints of him," the news agency Kun.uz quoted the President as saying.

The publication acquired a four-and-a-half-minute audio recording Mirziyoyev's Surkhandarya speech.

During the speech, the president announced the dismissal of two more deputy chairs of the SNB, but the audio segment on Kun.Uz only mentions one name, Shukhrat Tashpulatov. Tashpulatov was appointed deputy head of SNB in July 2017. Mirziyoyev called him a thief.

Earlier, it was reported that Mirziyoyev deprived Gulyamov of the rank of general and ordered that a criminal case against him be opened in July 2017. According to some media reports, the Supreme Military Court of Uzbekistan found Shukhrat Gulyamov guilty of infringing on the constitutional system and organizing drug smuggling. He was sentenced to life in prison and to pay the state compensation of more than $ 1 billion on August 10, 2017.

Gulyamov began his career in the special services as head of the Surkhandarya provincial department of SNB. In 2007, Islam Karimov awarded him the title of "Hero of Uzbekistan" ("Uzbekiston Kahramoni").

According to Article 18 of the Law of Uzbekistan On State Awards, Gulyamov would or has already been deprived of this title and related benefits.