Novaya Gazeta journalist Ali Feruz has left Russia for Germany, Mediazona reports referring to Olga Bobrova, the deputy editor-in-chief of Novaya Gazeta.
Ali Feruz, an Uzbek citizen, has now came out on top after a fierce six-months legal battle with Russian immigration authorities trying to deport him to Uzbekistan. The journalist was detained in Moscow in August 2017 and found guilty of violating the migration legislation of Russia. Further, the court decided to deport Feruz to Uzbekistan.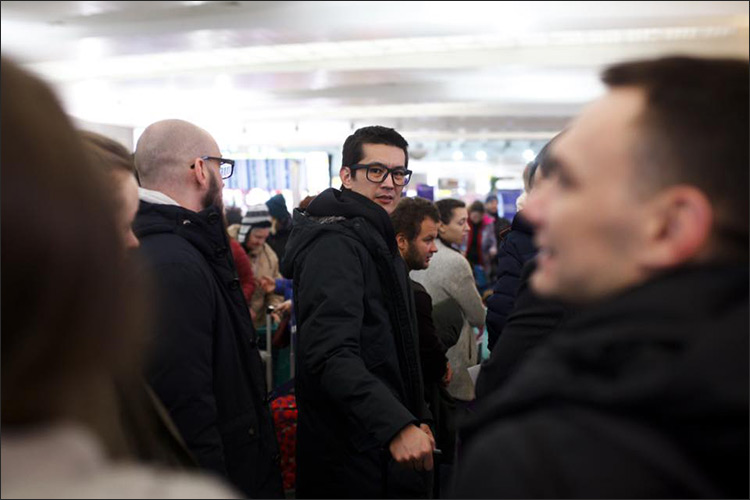 Ali Feruz at Sheremetyevo Airport. Photo by Vlad Dokshin, Novaya Gazeta

The journalist's lawyers appealed to the European Court of Human Rights which ruled that Feruz cannot be deported to Uzbekistan since he has to fear persecution from the authorities there. His representatives requested the authorities to allow the journalist to leave Russia to a third country. Germany agreed to accept Feruz. After that, by the decision of the Supreme Court, the case was reconsidered, and the journalist was allowed to leave for Germany.
Ali Feruz (Hudoberdi Nurmatov) grew up in Russia where his mother, a Russian citizen, lives. After graduating from school, he went to Uzbekistan to his stepfather. In 2009, he fled Uzbekistan to Russia, because the Uzbek special services tried to force him to report on the political views of his acquaintances, he said at the time.
Having lost his passport in Russia in 2012 which required him to return to Uzbekistan where he feared arrest, Feruz applied for asylum in Russia. The migration authorities, though, denied his request and detained him for deportation to Uzbekistan.
After Feruz's arrest, many human rights activists and journalists spoke out in his defense and more than 70 thousand people signed a petition demanding the deportation process to be stopped.